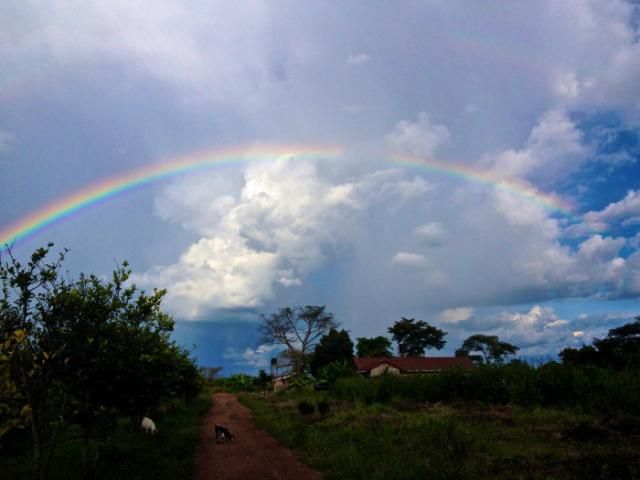 This is the stunning rainbow that appeared after Wizeye's burial. Another reminder of hope and promise. (Photo credit.)

Jesus promised to take Wizeye home.
He's promised all of us, of course. All of us, his children. But Wizeye is a child of God whose physical body, although young, had serious problems. My first meeting with him was just last month, when he joined David Family and I met him over our dinner together.
"Wizeye," someone said, "How are you?"
"I am fine," he replied, although he wasn't.
"How can we pray for you?" someone asked.
A pause. "Pray that God would increase my fine," Wizeye said.
And now, Wizeye's 'fine' has been increased beyond imagination.
Last week, we took Wizeye to the nearby village hospital. And for the next six days, there were many drives to and from, many visits, many prayers, many songs sung, many good-byes that could have been the last. I don't know Wizeye nearly as well as many others, but on Tuesday of this week, I had the honor of sitting with him in his room. That morning, he was weak. But his eyes opened, he greeted me, and when I asked if I could read to him from the Psalms, he wanted to listen.
I'm not sure I have ever felt God's presence as intimately as I felt in that hospital room. And in those hours, all that really mattered was that the Jesus we both loved was preparing to bring Wizeye to Himself.
"Wizeye," I asked him when we had finished reading, "When you see Jesus, will you greet him for me?"
"Yes," he said, and that was that.
A few hours later, he went home.
God fulfilled all of his promises to Wizeye. He healed him, made him whole, and brought him home. I can't imagine a more beautiful conclusion to the earthly side of Wizeye's story.
This week has been full. There has been physical death, and the knowledge of glorious new life. There has been mourning, and there has been celebration. There has been family, friends, and community, coming together to honor a life. And there has been Jesus, in and around and above.
Today, I praise the God who fulfills his promises—the God who is even now holding Wizeye close to His heart.