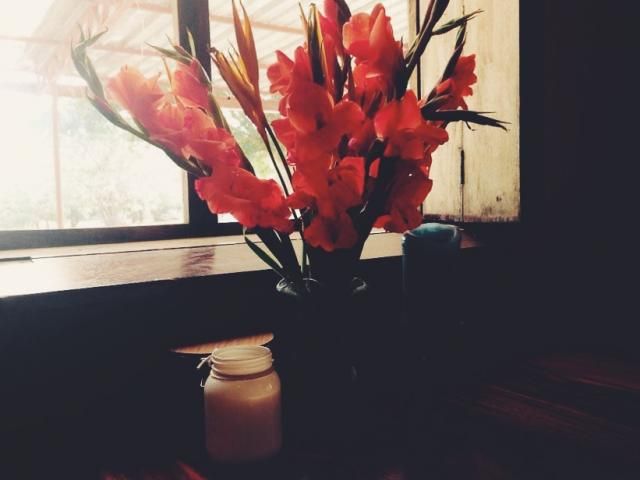 The past few weeks have held departures and arrivals, goodbyes and hellos, painful emotions and joyful ones…all of it culminating here. Here, where I sit at my dining room table surrounded by a vase of gorgeous flowers and a handful of scattered thoughts and a jar of delicious Nutella (not pictured). There are far worse Monday evenings out there, for sure.
Confession: before returning home (the American one) for the holiday season, it crossed my mind that maybe I wouldn't want to leave again. Suddenly, I was a little nervous that January 6th would arrive and I would be clinging desperately to Texas. And so I felt very blessed (and very relieved) when none of those feelings materialized. As bittersweet as it is to leave that home, returning to this home has been full and good and ultimately peaceful.
I've returned to a new rhythm of life for the next several months. At Kasana, New Hope runs the Institute of Childcare and Family, a five-month course designed to equip and disciple those working with in ministry with orphaned children. Since I so often feel inadequate in walking with the kids I have relationship here, I'm very much looking forward to the learning and growth that will go along with this time. In the interest of Full Missionary Disclosure, however, this is not a perfect and rose-colored path that I walk. So often, my heart still struggles. There are distractions, heart problems, and deeply rooted lies that still pull me down. (I wish people in ministry were somehow exempt from that.)
On Saturday, as I waited for a particularly hard week to end, a dear friend and neighbor showed up at my door. We spent the late morning talking and listening, crying and praying (okay, the crying was me and the praying was her). Later, an iced coffee and a note was also brought to my door, with Psalm 84:5 attached:
"Blessed are those whose strength is in You,
who have set their hearts on pilgrimage."
There is profound solace in those words. I love that the Jesus I cling to showers blessings upon those who are weak; I love that He fills us with His strength when we are most needy; I love that our hearts must be set on pilgrimage. Pilgrimage—"a journey to a holy place." My heart is on a desperate and beautiful pilgrimage. And again and again, I am reminded that the journey is still incomplete.
In the meantime, I find myself dwelling in a multitude of contradictions. Weakness and strength; doubt and faith; pain and joy. But my heart is set on pilgrimage. And I choose to trust the One who walks with me.