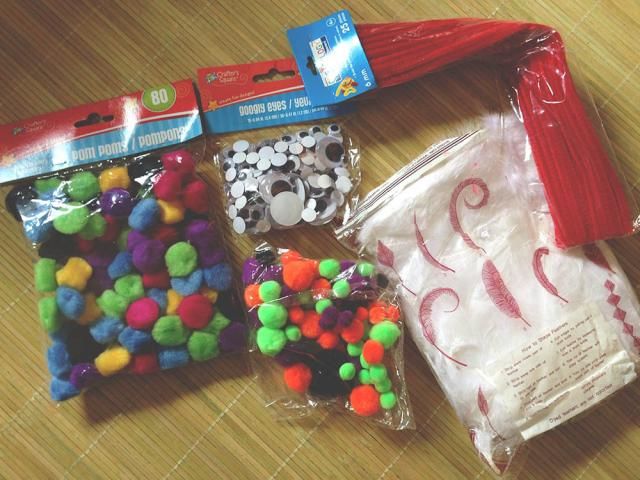 A few weeks back, I wandered aimlessly to Amazon.com and filled an imaginary shopping cart. See, I was gifted with all sorts of art supplies before I came to New Hope, and I've had very adequate supplies for our artistic needs this term—plenty of paper, markers, crayons, and a few more fun supplies like watercolors and paint brushes. But occasionally I've found myself wishing for some more specialized items. Scrolling through pages of art and craft supplies on Amazon, I found myself adding googly eyes, pipe cleaners, pom poms, even craft feathers to my "cart"—little things that would make some of our projects just a little more exciting.
Then, just for kicks, I clicked the "submit my order" button, and Amazon informed me that shipping to my location is unavailable. Oh well, it was a fun thought. After all, pom poms and fake feathers are definitely not an artistic necessity.
Fast forward to this week. A team from the States had arrived at New Hope, carrying with them some art supplies from a group of my dear supporters back home. I had given them a very generic list of needs, not wanting to be overly specific ("I really need feathers and googly eyes" or "Please send pom poms ASAP" seemed a little dramatic). Last night, the supplies arrived at my house, and I enjoyed a mini art teacher Christmas as I sifted through what was included.
First I came across a pack of googly eyes. (Funny, I thought. That's something I'd added to my imaginary shopping cart.)
Then I saw the bags of pom poms. (Excellent!)
And then there were the pipe cleaners. (Wonderful! Didn't even have to ask.)
And then, of course, two bags of fake feathers. (Okay, now that is far too random to be a coincidence.)
So today, I am thankful for the wonderful people of Edna Hill who have supported me so generously in so many ways (some of which they didn't even know). I'm thankful for fun craft supplies that are easy to come by in the States, but a very special treat over here. I'm thankful for extra art paper and paint brushes and popsicle sticks and stickers.
And that's the story of how I got pom poms and feathers from Jesus.