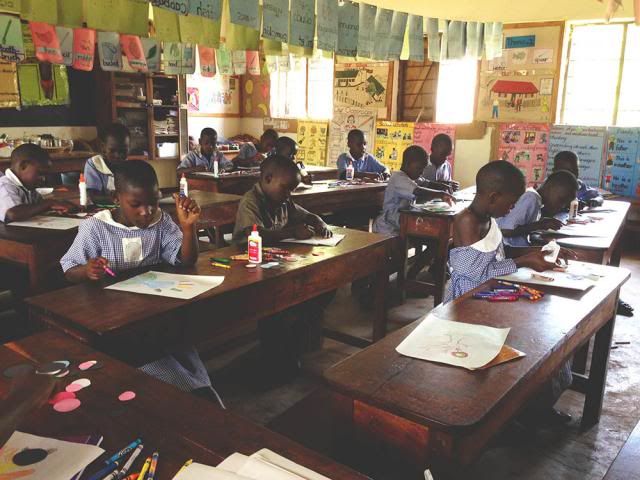 After a lovely experience with malaria in what should have been my first week of teaching, I finally made it into the classrooms last week to officially begin my time as the roving arts teacher at the Essuubi Eppya Vocational Primary School (and that mouthful easily become EEVPS). I packed my bag with paper and glue and crayons, and arrived at the Primary 3 classroom to a unison chorus of "You are welcome, Auntie Beth!" …and then a few questioning looks, as a few of them couldn't quite decide if my name is "Beth" or "Bess."
And then we were off. My delayed start at the school had given me extra time to be a bit nervous about the whole "teacher" thing, and I was a little apprehensive going in. But a few minutes into that first class period with the P3 students was all it took to pleasantly remind me just how much I love this job. I am daily thankful to be given the privilege of walking with these kids as they explore a world of creativity, and watching the excitement in their eyes as I hold up the day's project is well worth the messes and the planning and the chaos. (If anyone knows how to hand out bottles of glue to a class of 25 without chaos, I'd be really happy to learn the trick.)
Apart from the students themselves, I'm also blessed by the amazing staff at EEVPS. The teachers in all the classes I come through have been so helpful as I work through the steep learning curve involved in any new job–especially one in a foreign culture. It's been very good, I think, to join a part of New Hope's ministry that is largely untouched by the foreign staff. All my co-workers and supervisors are Ugandan, which is something I very much appreciate. I want to learn to live in and honor this culture, rather than bringing in my own.
I apologize for not keeping this blog as faithfully as I would like–I'll do my best to improve! For now, here are a few prayer requests. I would so appreciate you joining me in lifting these to the Father:
For the minds and hearts of each of my students (and all of those at EEVPS). Joining this staff as a teacher isn't just committing to teach a particular subject–it's committing to invest in these kids in every way.
For myself, as I learn the ins and outs of this culture, especially as pertains to my position in the school.
For the grace and love to grow closer to each of the kids in David Family. They are the blessing right outside my front door, and I constantly need the wisdom to be able to walk with them, talk with them, and in some cases mentor them, as we do life together.
SaveSave